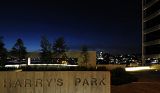 On 10 November 2011 Harry's Park was officially opened. This park, adjoining the office of Harry Seidler & Associates in Glen Street, Milsons Point, was gifted by Penelope Seidler to the people of Sydney in memory of Harry Seidler and celebrates his life, his contribution to architecture and the enrichment of our environment. It also bears his favoured inscription from the Vienna Secession Building:
To Each Time Its Art – To Art Its Freedom
Curved seating groups and ribbon walls framing views of Sydney Harbour are juxtaposed with straight elements such as screen walls. Free formed garden beds are set into the natural porphyry stone paved plaza. A sculpture, Tracing Light – For Harry 3D/4D by Robert Owen, completes the park.